Career Acceleration via Rigorous Educational Experiences in Research (CAREER)
Overview
The Institute is excited to have developed a 1-week, virtual pre-college program for incoming underrepresented minority first-year students expecting to major in STEM disciplines. The highly interactive program brings together participants from several  institutions, giving students a supportive network at their university and those of the partnering institutions with whom to start college together.
We ran the program the past two summers (2021 and 2022).
Our partner institutions are North Carolina A&T and Hampton University, strengthened by a decade of collaborative educational programs among the leaders of CAREER. Instructors are research-active faculty at the BioInspired Institute, NCAT, and HU. Additional partners include the Louis Stokes Alliance for Minority Participation (LSAMP) at Syracuse and Hampton and Maximizing Access to Research Careers (MARC) at NCAT.
Program Highlights
Building your STEM identity
Virtual activities, including: nature of science, introduction to quantum computing, additive manufacturing, data visualization, and more.
Professional development activities:  networking, writing a personal statement, high school vs. college mindset
Research lightning talks from faculty and student researchers
Resources and support offices at each institution
Career pathways and life after college
Outcomes
We hosted roughly 40 students from Syracuse University, Hampton University, and North Carolina A&T. 95% of the participants identified as belonging to underrepresented minority group.
Government and industry experts from IBM, Air Force Research Laboratory, Biomedical Advanced Research and Development Authority, Department of the Navy, and the National Science Foundation joined us to share their perspective and advice to participants.
No fewer than 15 Faculty and Staff from all three partner institutions met with our participants to present lightning talks, run professional development workshops, and share on-campus resources.
95% of post-assessment survey respondents either strongly or very strongly agreed with the statement that the workshops were "effective in increasing my awareness of, and motivation for, pursuing a STEM research and/or graduate STEM degree pathway as I prepare to enter my first year of college."
Program Schedule
We know many of us have struggled with Zoom fatigue lately, so we included frequent breaks. Also, the programming was highly interactive to keep participants engaged and learning, including a STEM careers workshop, Family Feud style!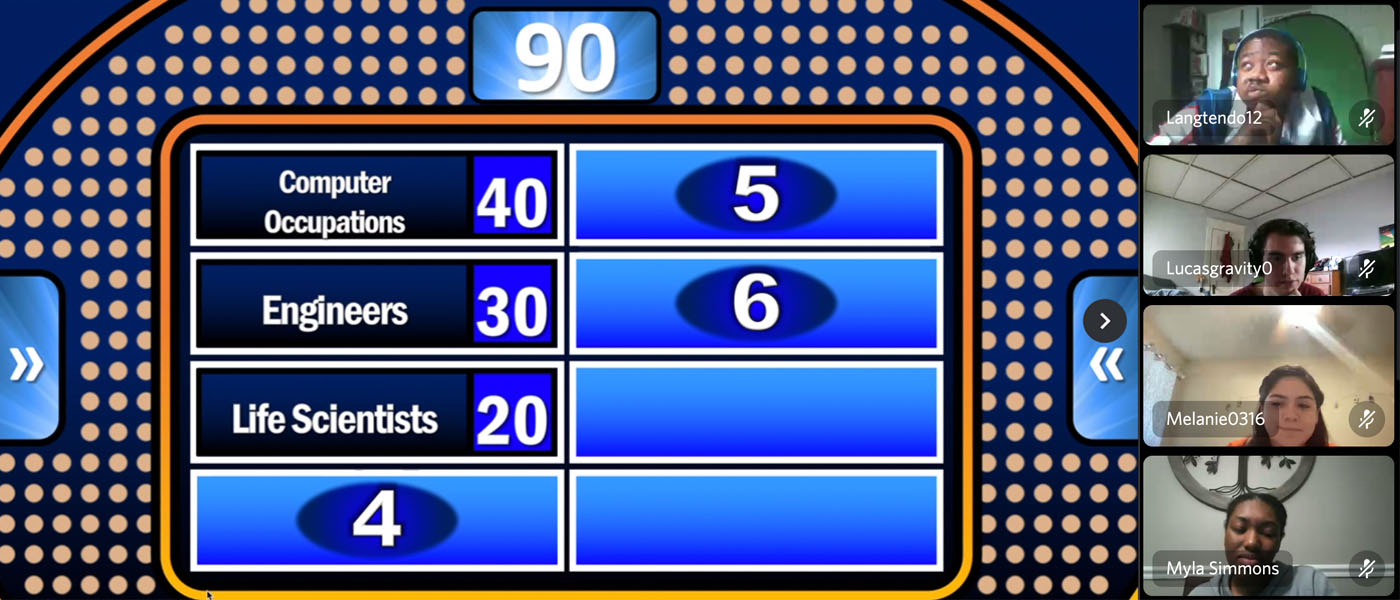 Program Goals
To position students to compete for research experiences, internships, or major-related jobs after the first year of college
To bring awareness of and motivation for pursuing research and graduate school pathways to students before the first year of college
To contribute to study and research skills with which to start college