When Bianca Andrada '22 reflects on how her time at Syracuse University influenced her life's journey, she'll have plenty of experiences to draw from. She wanted to grow academically and socially, and she did just that. As a bioengineering major in the College of Engineering and Computer Science (ECS) and a member of the Renée Crown University Honors Program, Andrada joined a research team at the BioInspired Institute.
She worked as a resident advisor for three years, which included the memorable experience of supervising a cohort of first-year engineering and computer science students in the ECS Living Learning Community. She also participated in a variety of social and cultural activities, including serving as president of both the Engineering World Health student organization and Kappa Phi Lambda Sorority. "I'm a firm believer that if you're with other motivated people, then you will feed off their energy and be motivated, too," she says. "That's why I found myself active in so many things on campus. I wanted to meet more people and understand their stories and create opportunities with them to further ideas on campus."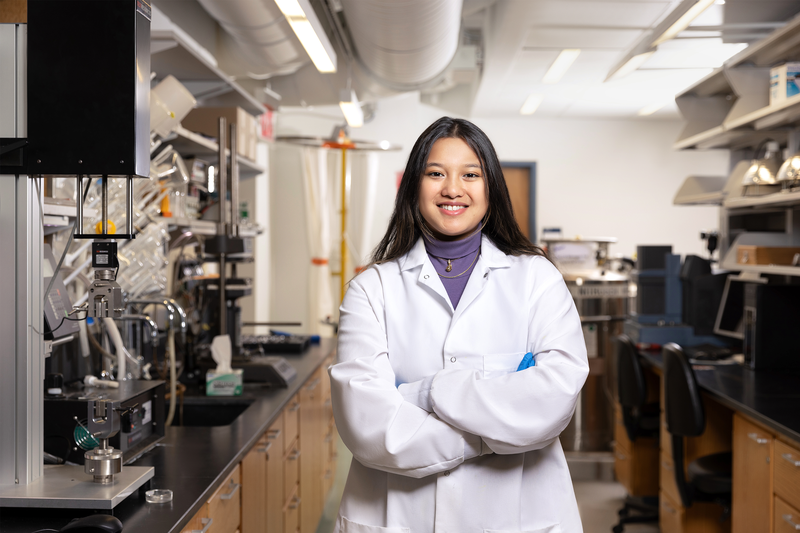 Invent@SU—a summer program in which students design, prototype and pitch inventions—proved influential for Andrada as well. She worked with a biotechnology major and an industrial and interaction design major to create Glisten, a dental health device. The experience introduced her to collaborative product creation and captivated her so much that she took an industrial design class this semester. "I love working with other people and hearing their perspectives," she says. "Exchanging ideas is my biggest attraction to this kind of collaborative environment. I think learning about different perspectives increases the inclusivity of your product."
As Andrada's future unfolds, she is focused on studying robotics and autonomous systems in a master's program at Boston University, with a particular interest in exploring the world of medical robotics, especially soft robotics and prosthetics. Admittedly, her view on robotics has completely flipped since The Terminator terrified her as a child. Instead, she thinks about her late grandfather, who died of leukemia when she was young, and how helping people live longer or overcome physical disabilities improves life for them and their families. She cites classes in mobile health devices, biomechanics and sports engineering for inspiring her interest in medical devices and human movement. "If I can help design a robot that can essentially eliminate or minimize human flaws, then it's creating an opportunity to save more lives," she says. "I've become more fascinated with robotics because I want to use robots to create opportunities for people."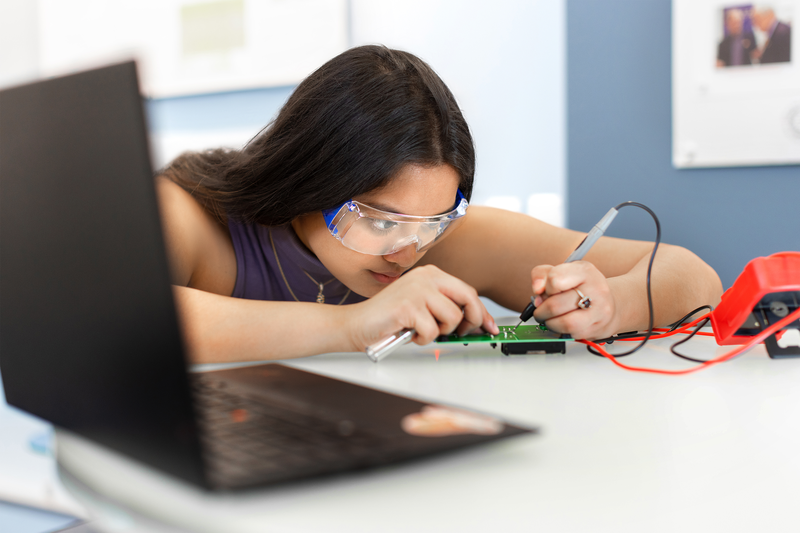 Discovering Research
Before arriving at Syracuse, the Staten Island native attended Talent Unlimited, a performing arts public high school where she excelled as a flutist. In her junior year, Andrada discovered her affinity for research while volunteering at the Icahn School of Medicine at Mount Sinai in New York City. Over the course of two years, she became involved in research focused on Alzheimer's disease and on drug addiction. "I realized it's not just music that I'm good at," she says. "I'm good with numbers, so any opportunity I had to do science, I took it."
When Andrada visited Syracuse University, she remembers how struck she was by the beauty of the campus as well as her introduction to the BioInspired Institute. After learning about her interest in research, ECS undergraduate recruitment specialist Jonathan Hoster '02, G'11 took her there for a tour—and the attraction was immediate. "I was amazed by the BioInspired Institute," she says. "There were so many things that I thought could come true here, and the most important part to me was obtaining skills."
For the past two years, Andrada has been a member of Professor Pranav Soman's lab team at the BioInspired Institute. One expertise of the team is using 3D printing to create complex, double-network hydrogels—crosslinked, water-absorbing polymers that are tough, stretchable and transparent, and can be infused with optical properties. As part of her honors thesis, Andrada has worked with postdoctoral researcher Puskal Kunwar, exploring the development of stretchable optics using double-network hydrogels. They constructed a mold for producing a double-network hydrogel lens, and she also helped design and create a stretchable optics mechanism to test the lens' tensile strength. "I was really interested in the elasticity of materials, and if you stretch the double-network hydrogel material, you can increase the magnification of it," she says. "Stretchable optics is an emerging research field right now, but we believe it might be popular for use in the future for optics as an alternative to glass."
Embracing Social Activities
Andrada cites her time as a resident advisor for helping her develop leadership skills and inspiring social interactions. One of her initiatives was a "pop-up laundry" lesson, which she hosted after realizing many of her residents didn't know how to do laundry. It earned her a 2020 Education Initiative of the Year Award from the National Residence Hall Honorary, an organization that recognizes residence hall leaders. "That's where a lot of the residents met and made friends—they all bonded on the fact they couldn't do laundry," she says. "It was also a great opportunity for me to get to know all of them. One thing I loved about being a resident advisor is that I became friends with everyone and still am. I got to see my residents grow into who they are at Syracuse today, and that's been one of my most enriching experiences."
Along with being a Dean's List student and working in guest services at the Barnes Center at The Arch, Andrada serves as an Engineering Excelerator, an ECS student ambassador who assists in the recruitment of prospective students. She's also a member of the Filipino Student Association, and as president of Kappa Phi Lambda takes pride in the sorority's support system, the friendships she's made, and the opportunities the sorority provides as a platform for people of color to tell their stories and educate the campus community about different cultures. During the sorority's Asian Awareness Week, for example, it hosted Hidden Gems of Asia, an event that welcomed individuals from the Hmong, Tibetan and Karen communities to share stories of their struggles and cultures. "Kappa Phi Lambda is a multicultural sorority, and our pillars are sisterhood, service and cultural diversity," she says.
For Andrada, creating opportunity and access for others is a way to give back. She also looks back knowing she accomplished at Syracuse what she set out to do. "My biggest takeaway is that I obtained the skills to create my next chapter," she says. "I'm ready to take all the skills I learned socially and academically at Syracuse to wherever they bring me next. That's what I wanted out of my college experience. I love learning, and I just want to keep learning."
–by Jay Cox