AT SYRACUSE UNIVERSITY
The Stevenson Biomaterials Lecture Series
The Stevenson Biomaterials Lecture Series was established in 2007 thanks to the generous support of the late Trustees Ann McOmber Stevenson (Nursing '52) and Milton F. Stevenson III (Chemical Engineering '53).
Each semester, the series brings pioneering biomaterials researchers to the Syracuse University campus. Presenters are selected based on their leading roles in biomaterials research, and are asked to speak on their latest endeavors. In addition, Stevenson lecturers visit with faculty and students to exchange ideas, build bridges, and become familiar with the broad range of biomaterials activities at Syracuse University.
---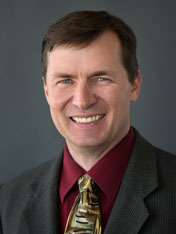 Sean Palecek (2023)
Milton J. and A. Maude Shoemaker Professor of  Chemical and Biological Engineering, University of Wisconsin-Madison
University members will have the opportunity to listen to Dr. Palecek at this year's Annual Symposium on October 20th at 12:30pm.
Registration for the event and to hear Dr. Palecek can be found here: Bioinspired Institute Annual Symposium.
Past Stevenson Lecturers
Henk J. Busscher (2021)
Professor-Head of Department of Biomedical Engineering, University of Groningen Netherlands
Director-owner of a consulting company: Scientific and Applied Surface Advice
Andrés Garcia (2020)
Executive Director, Parker H. Petit Institute for Bioengineering and Bioscience
Petit Director's Chair in Bioengineering and Bioscience, Georgia Institute of Technology
Kam W. Leong (2019)
Samuel Y. Sheng Professor, Department of Biomedical Engineering, Department of Systems Biology, and Columbia University Medical Center
Thomas J. Webster (2018)
Art Zafiropoulo Chair, Department of Chemical Engineering, Northeastern University
David L. Kaplan (2017)
Stern Family Endowed Professor of Engineering, Department of Biomedical Engineering, Tufts University