Who should participate?
Any graduate student or postdoc affiliated with the BioInspired Institute
Any undergraduates affiliated with the BioInspired Institute who wish to participate in professional development opportunities
To participate in the Graduate and Postdoc Development Certificate Program or get more information about the professional development events, email the Institute.
Inspiration: The faculty and staff of BioInspired Syracuse are committed to supporting the development of graduate students and postdoctoral associates, and we aspire to train well-rounded, polished, career-ready scientists and engineers who will stand out in the job market. We recognize that not all development happens within the bounds of the classroom or lab, therefore graduate students and postdocs in the institute have the opportunity to participate in a comprehensive co-curricular, professional certificate program.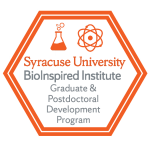 Training: The program focuses on development in areas important for career success and skills specific to STEM fields: project management, oral communication and presentation skills, graphic and figure design, data management, research ethics, career and professional preparedness, grant and proposal development, and research and scholarly communications. Additionally, the program includes activities designed to encourage knowledge sharing and collaboration across the Institute.
Connections: Events are organized and offered through the Institute periodically in addition to leveraging events hosted by other offices on campus, such as WiSE's annual science writing workshop, the Graduate School's 3-Minute Thesis competition, and research workshops from the Libraries. These events and trainings provide a diverse portfolio of learning opportunities for graduate students, and when added together, make up the BioInspired Graduate Student and Postdoc Development Program.
---