College of Arts and Sciences Assistant Professor Alison Patteson has been recognized with a 2023 Cottrell Scholar award, a prestigious national honor that ranks her among the country's best faculty researchers and teachers from the fields of astronomy, chemistry and physics. A faculty member at Syracuse University since 2018 and a member of the BioInspired Institute, Patteson researches cell migration and how cells navigate and respond to their environment.
Cottrell awards are presented by the Research Corporation for Science Advancement, a 121-year-old foundation that recognizes excellence and innovation in research along with academic leadership skills. Selection introduces scholars to a national network of outstanding scholar-educators and mentors who meet yearly to discuss research, pedagogy and student development.
Pathways to Science Careers
Patteson's award comes with funding of $100,000 over three years. With the Cottrell award support, Patteson and her team will explore the growth of biofilms, which are slimy clusters of microorganisms including bacteria and fungi that can adhere to wet surfaces.
For the award's educational component, Patteson will mentor Syracuse City School District high school students by bringing them into labs on campus for a physics department open house and recruiting students to the department's summer high school program, a key step on the pathway to STEM careers. She will also develop a new course for undergraduate and graduate students at Syracuse University, Public Engagement in Physics and STEM. The class will help students create their own demonstration materials, disseminate them in a public setting, then self-assess their impact.
Advance Teaching and Research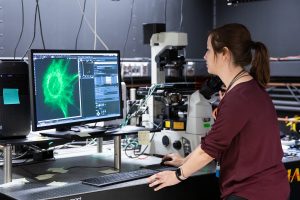 Three other faculty at Syracuse have earned Cottrell Scholar awards. Duncan Brown, University vice president for research and Charles Brightman Endowed Professor of Physics was recognized as a Cottrell Scholar in 2010; M. Lisa Manning, director of the University's BioInspired Institute and William R. Kenan, Jr. Professor of Physics, was selected in 2015; and Jennifer Ross, professor and chair of the physics department, received the honor in 2010 while at the University of Massachusetts-Amherst before coming to Syracuse.
"The Cottrell Scholar award reflects Professor Patteson's outstanding commitment to teaching excellence and research innovation," says Brown. "Professor Patteson's dedication to inclusion and excellence in teaching exemplifies how our faculty create outstanding experiential learning for our students while conducting research that bolsters the University's reputation as top-tier research institution."
"This is such a well-deserved award for Professor Patteson," says Manning. "She is a world-renowned researcher plus she cares deeply about teaching well and about broadening the diversity of students in physics through her teaching and outreach efforts. Her work exemplifies Syracuse's commitment to providing a great liberal arts education while driving Carnegie R1-level research forward."
Ross says, "This is not only a major award and a significant grant, being a Cottrell Scholar is also about a set of values that we embody as professors—the ideal teacher-scholar that demonstrates excellent teaching in addition to research innovation. The Cottrell Scholars are also a wonderful network of mentors for both research and teaching since they are from both research-intensive universities, like Syracuse, as well as from predominantly undergraduate institutions."
Biofilm, Cell Activity
Patteson's research team examines the mechanical effects of substrates on biofilms to assess how various surface types promote or hinder biofilm growth. The project will allow researchers to gain a better understanding of how bacteria can fundamentally remodel the world around them to grow and survive, which could have implications for better predicting how they spread. Patteson is also studying the behavior of bacteria through a grant from the National Science Foundation and a recent five-year MIRA grant from the National Institutes of Health to understand how the protein filament vimentin functions in cells as they move, which has implications during processes like cancer growth and wound healing.
Patteson's award ranks Syracuse in the top four universities in New York State having multiple faculty members named as Cottrell award winners. At present, only two other universities in New York have more Cottrell-awarded faculty: Columbia and Cornell.