Is there beauty in science? What insights can arise from viewing scientific theories through a lens of beauty? How does such perspective bring value to individuals and society?
These are among the interdisciplinary questions to be explored at the Renée Crown University Honors Program inaugural symposium, "The Value of Beauty and Beauty in Science." On Tuesday, April 4, a panel will engage in discussion from 2 to 4:40 p.m. in 214 Slocum Hall, followed by a reception from 4:45 to 5:45 p.m. at the Syracuse University Art Museum in the Shaffer Art Building.
This is the first annual symposium hosted by Renée Crown Honors Endowed Professors Heidi Hehnly and Karin Nisenbaum. The College of Arts and Sciences faculty members will be featured speakers along with guests Suzanne Anker of the School of Visual Arts in New York and Angela Breitenbach of Cambridge University in the United Kingdom. Anker and Breitenbach will discuss the connections between the seemingly disparate disciplines of art and science.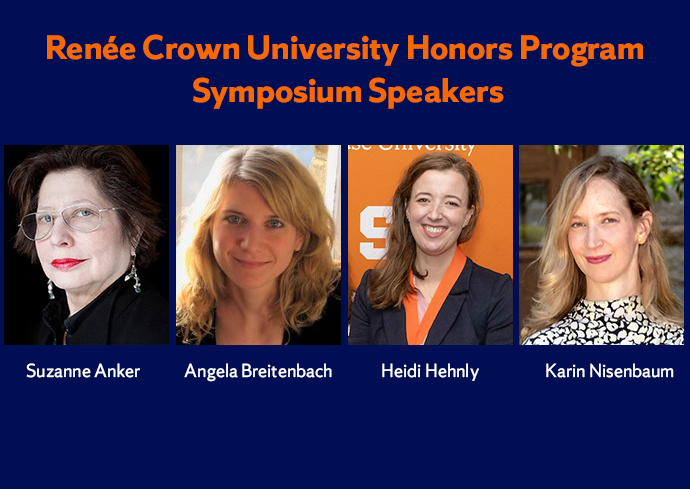 Anker is a renowned bio artist and bio art pioneer and theorist. She investigates the ways nature is altered by human behavior in the 21st century. Concerned with genetics, climate change, species extinction and toxic degradation, she calls attention to the beauty of life and the need for enlightened thinking about nature. Breitenbach is an esteemed professor of philosophy at Cambridge University. Her research focuses on Kant and modern philosophy. Through this lens, she examines themes in aesthetics, philosophy of science, philosophy of biology and environmental philosophy. She has written on the beauty of scientific theories and the relationship between beauty and truth.
Henhly serves as the Renée Crown Professor in Sciences and Mathematics and Nisenbaum is the Renée Crown Professor in the Humanities. They are the first faculty members to be appointed to Renée Crown Honors professorships, positions they will hold for three years. In addition to presenting the symposium, Henhly and Nisenbaum teach honors courses and guide honors students in their thesis research projects. The professorships are made possible by a gift from the family of Trustee Emerita Renée Schine Crown '50, H'84.
Interdisciplinary Opportunities
Hehnly has a strong belief in the academic value that interdisciplinary opportunities, such as this symposium, offer in extending student education and institutional research beyond traditional and sometimes confining silos. "Suzanne Anker is an exceptional example of this, a trained artist who explores biological techniques and has even built her own biology laboratory at the School of Visual Arts as a studio of imagination and discovery," says Hehnly. "I hope that watching the interconnection between Anker's and Breitenbach's works will inspire students, faculty and staff at Syracuse University to consider stepping further out of their comfort zones and make new connections in unanticipated fields."
"Many of us might think that it is problematic if scientists allow considerations of beauty to influence their evaluation of scientific theories. But why shouldn't beauty play a role in scientific inquiry?" Nisenbaum asks. Noting that scientists have long pondered how beauty intersects with the scientific sphere, she cites the words of physicist Anthony Zee regarding the intersection of beauty and science. "He made a striking claim about the role of aesthetic judgments in the formulation and selection of scientific theories," says Nisenbaum. "Zee claimed that when presented with two equations describing nature, the scientist would almost always choose the one that appeals most to the aesthetic sense. Our guest speakers will join us in discussion of related ideas."
Collaborative Scholarship
Danielle Taana Smith, honors program director, affirms that the program holds a deep value for promoting collaborative scholarship and for providing opportunities for students and faculty to share perspectives with colleagues in the U.S. and abroad. "We are deeply honored to work with two dedicated scholars, Hehnly and Nisenbaum, as the program's inaugural endowed professors. The symposium they have designed perfectly aligns with our mission to encourage interdisciplinary, contemporaneous dialogue regarding the critical issues that face humanity."
Hehnly, associate professor of biology, has taught and conducted research at Syracuse since 2018. Her work focuses on the mechanics of cellular division. She is also a member of the interdisciplinary BioInspired Institute and director of the Blatt BioImaging Center. With her research team, she is addressing urgent health needs relating to developmental disorders, genetic mutations and cancer-causing genes. Hehnly is also dedicated to leading interdisciplinary learning opportunities, such as the University's first Bio-Art class. Her honors course, light microscopy and illustration in cell and developmental biology focuses on fundamental principles in cell and developmental biology.
Nisenbaum, assistant professor of philosophy, joined Syracuse University in 2021. Previously, she was an assistant professor of philosophy at Boston College and Colgate University and a postdoctoral fellow at the Hebrew University of Jerusalem. Her research focuses on topics at the intersection of metaphysics and ethics in Kant, German idealism and modern Jewish thought. She is the author of "For the Love of Metaphysics: Nihilism and the Conflict of Reason from Kant to Rosenzweig."
For more information and requests for accommodations regarding attendance, contact Maya Falkner-Guidice at mcfalkne@syr.edu or the honors program office at 315.443.2759.
–By Diane Stirling